Whether you bought a house with an existing deck or you're planning on building one in the near future, if you want your deck to look good and remain safe for years to come you need to maintain it.
Inspecting your deck:
Winter and harsh weather conditions can cause damage to your deck. You should inspect your deck for loose, ill-fitting or rotten boards. You should also inspect to make sure your railings and joists are in good shape to avoid injuries. 
If your wood is in good shape, but a screw is loose, you can easily tighten it. However, if the wood has been damaged, it is best to replace it with a new piece of wood. Simply remove the screws, removed the damaged piece and use the existing board as a template to cut your new board. You can either pre-stain your wood before installation or stain the board along with the rest of your deck.
If there is severe damage to the boards or joists, it is best to call in a professional.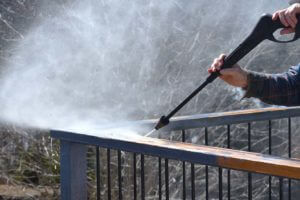 Cleaning:
Decks should be cleaned at least once a year to remove debris, mold and mildew. In some areas, like the Pacific Northwest, you also have to worry algae too. The best way to clean your deck is to sweep or vacuum it, then use a small putty knife to remove dirt and debris from in the cracks. 
Once you have cleaned your deck, you could pressure wash it gently on a light to medium setting going with the grain of the wood. There are cleaners that can be found at home improvement stores that are specifically made for wood as well as composite decking. Do not use a high power setting or you can damage the decking material.
Deck Staining:
According to HGTV, all wooden decks should be stained once a year starting with several months after it is installed. With some pressure treated lumber, you need to wait for 90 days before you can stain it. So, ask your carpenter how long you should wait.
If you are refinishing a deck, Home Depot suggested sanding the deck to remove the existing stain or sealer. Once you are finished sanding the deck it should be thoroughly vacuumed.
After your deck is cleaned, apply your stain or sealant using a roller or spray. Use a brush to clean up any drips. It is best to stain your deck when it is 50-90 degrees outside. But you should avoid staining your deck in direct sunlight. 
You should also make sure the there is no rain in the weather forecast for at least 24 hours. Avoid walking on your deck for at least 3 hours and do not put your belongings back on your deck for at least 24 hours.
As with any home improvement project, safety first. Don't forget to wear your safety goggles, long pants and other protective gear to avoid injury.
When it comes to the life of your deck, maintenance and care is very important. But starting with quality products like Alaskan Yellow Cedar as well as Sherman Williams paints and stains can extend the life of your decking. That's why we use these products in our deck railing inserts and we hope that you will consider using our products for your next decking project.
For more information about Fence Quarter Deck Railing Inserts or the quality products we just to create our products email info@fencequarter.com