When it comes to your deck, you want it to look good, often times you want ease of maintenance and you typically assume it is safe. Safety is often overlooked because you are trusting the Contractor building your deck to do all the right things, from design and engineering to permits and inspections to end product. Although there are a majority of really great Contractors who ensure you do get a great product, there are those contractors or handymen who do cut corners, do not understand engineering or the construction process very well and put more emphasis on collecting their money than delivering what they said they would deliver. Sound familiar? If not, you will find countless reports throughout the Country of deck failures from the ledger attachment to the main structure failing, to improper footings not holding the weight or use of wrong sized lumber to support the size of your deck. But what about the railing?
Popular Materials for Railings: There are quite a few Companies who offer great railing systems, from cable, to aluminum and glass to composites. These Companies who offer an engineered railing system are required to have an accredited third-party test and rate their deck railings to ensure your safety and to prevent lawsuits; in this way they can claim their products are code compliant. These types of products are increasing in numbers; however, wood railings are still today holding a comfortable lead in the number one use of material.
Most Used Material, even Today: Wood is often used because it is more economical, which is understandable. However, it is not a product you can just simply go and purchase readily. Sure, there are some wood railings you can find at the Big Box Stores, but you should be very concerned using such products, as much as you should be concerned on how the typical wood railings are assembled on site, one piece at a time! When you are purchasing a wood railing system, it comes with the top rail and bottom rail and quite frankly it is more often than not poorly made with nail fasteners and locations where rot will creep on the lumber faster than if a different design were used, not to mention the poor choice in lumber and knots that are found on these products. Just be careful when considering these products for your deck and ask to see their rating and third party testing information.
The Construction of Your Wood Railing: (fig 1.) Your typical wood deck railing consists of vertical 2"x2" lumber or balusters, mostly made from cedar in the West Coast and Cypress in the East Coast. These balusters are attached to the bottom and top rail. The bottom and top rails are attached to the posts, and obviously the posts are attached to the deck. Each of these are dependent upon the structure and integrity of the next in that order. Hence there are three critical connections a contractor should take very seriously. If the contractor does not take care in correctly assembling the railing and a 200lb person slips and falls against the railing, a person could fall through and become seriously injured, or worse.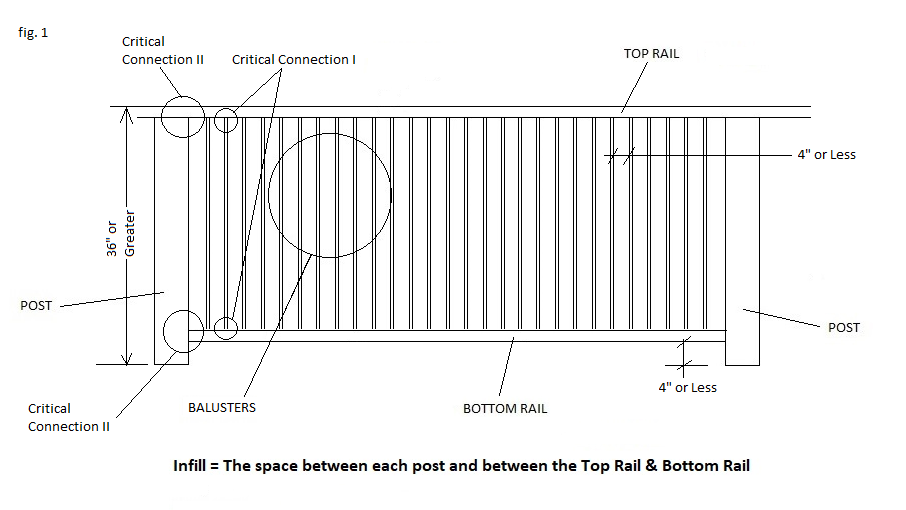 The general IRC or International Residential Code regulates what the building codes should be, however you should always check with your local area for any additional code changes. When you surf through the internet, you will find varying quotes on what the code is, however per the IRC Code your balusters should hold a load of no less the 125 lbs per square foot. This means two things, your connection to the upper and lower rails should be strong, e.g. screws vs. nails and what is not found anywhere, and is our rule of thumb, is the KR, or Knot Ratio (fig. 2)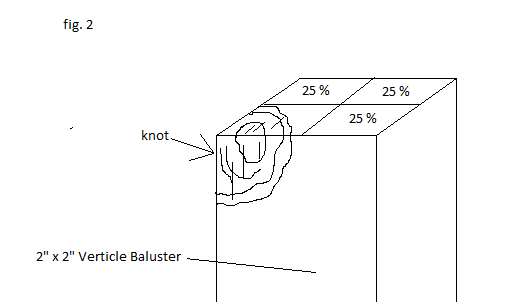 This is where every knot in a baluster should not be greater than 25% of the cross section of the lumber where the knot is located, giving the remaining 75% of the surface to be your strong point. Your rails should be attached to the posts very well. Often toe nailing a screw from the rail to the post is the most commonly accepted practice, but incorrectly attached could cause it to fail if someone where to lean on it. The IRC Code requires a Horizontal and Vertical force of no less than 125 lbs. to the Top Rail, and 200 lbs. of force against each post and the center of the Top Rail. One of the best methods is to place your top rail on top of the posts and screw directly downward into each post, plug and sand. Although this method suggests a particular look or design, it can be very attractive and is worth considering.
Of course, there are other standard codes like if the deck is higher than 30" from the lower ground, you must have a guard rail, a deck railing must be a minimum of 36" high from the deck surface, the bottom rail may not be more than 4" above the deck surface and the balusters shall not exceed a distance from each other of 4". Stair railings do have some variations of which your Contractor will know.
When a wood deck railing is assembled one piece at a time, you must remember that a Contractor is always pushing the clock to be done with the project as soon as they can. That is how they make money. They are biases towards moving onto the next project, so some may make compromises to achieve completion. The process to install literally hundreds of balusters one at a time can certainly become mundane, so ensure the contractor does a good job. There is typically no field testing and certainly no third party testing in a controlled environment, so you or the inspector is your last defense to ensure the job is correctly done, your safety depends on it.
Written by: Christopher Price, President of Fence Quarter, LLC